One of the consequences of Brexit was a lack of truck drivers in the UK, leading to a fuel and supply crisis unprecedented in this century. In the midst of this challenging business climate, Supermarkets like Tesco they found it Ally in Spain, specifically in Valencia. It is located around the Spanish company Transvisa Logistics That runs the railway "saves" all these problems.
We are talking about Cool Rail project, which managed to reach London in 72 hours from Valencia. "There is a lot of interest right now in this type of transport in England because of the trucking crisis," says Pedro Ramos, senior account manager at Transfesa Logistics.
He adds, "The prices of land transport have risen sharply, and there is a long delay in sea transport." A perfect storm in which the train would be the cheapest, most sustainable and fastest mode of transport.
The Road Started in 2019 by Euro Pool System (EPS)However, they later boycotted the project because they could not continue on their own. And that's where Transfesa Logistics came in, reaching an agreement with the company to relaunch the service in June 2020.
As a result of this alliance, the first direct railway for refrigerated products Between Valencia and Rotterdam It expanded its coverage area to reach all of Europe.
In addition to this road and the UK road, They are also betting on getting to Cologne within 48 hours. This route gives CoolRail, which is powered by Transfesa Logistics, access to Scandinavia, Poland and the Czech Republic via Germany. Finally, a third route takes them to the Benelux in 60 hours.
The result this year has been very positive. "We've rounded up clients and hit two and three volumes," Ramos assured this media in just one year. In one year, they transported about 2000 containers. For each European route, its trains carry up to 44 containers, while on national roads we talk about about 30.
Valencia garden
In your own reefer containers They transport citrus fruits, fruits and juices (mainly from Valencia) On roads that also carry other types of merchandise, such as accessories and auto parts. It should be remembered that the latter was until recently the main business of Transfesa, a 78-year-old company.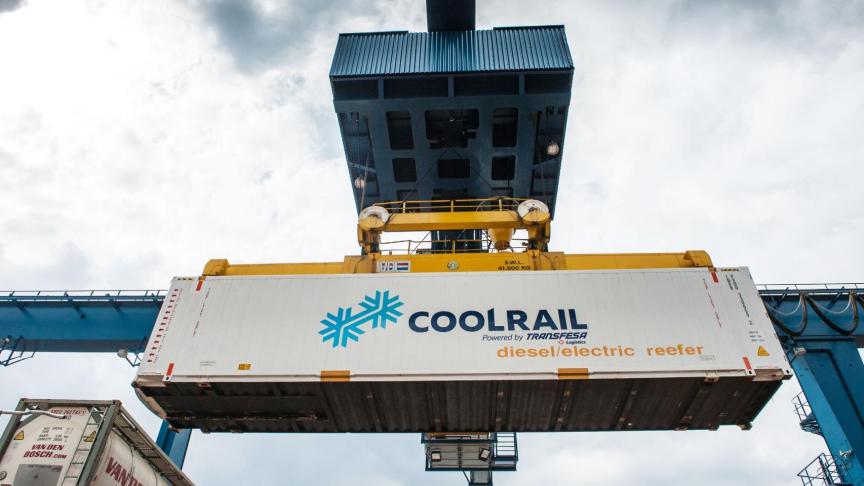 And the process is not always easy. When they cross the Spanish border, they have to change axes to go from the Iberian meter to the European meter. A process that takes an average of 12 hours, according to Ramos, and that In the future this will not be necessary since the Mediterranean corridor It expects a double podium at the international show all the way around.
To develop their routes, they cooperate and use the railway infrastructure of their largest shareholder since 2007 with 70%: DP Shipping (German General Railways). In addition to, Renfe has 20% of its capital The remaining 10% is made up of minority shareholders and treasury shares.
more sustainable environment
Among its most popular clients are well-known restaurant chains such as Tesco around Auchan (which operates in Spain through Alcampo). or Coop Trading, the main supplier to the largest retail cooperatives in Denmark, Finland, Norway and Sweden. This is in addition to adding a hallmark to the product label transported on the Cool Rail track, highlighting the commitment to sustainable transportation.
Hence they want to take advantage of the fact that the European Union places great emphasis on rail transport. CoolRail is a responsible transportation alternative It manages to reduce between 70% and 90% of the carbon dioxide on its roads, they confirm from the company.
Asimismo, entre sus clientes en Europa están Albert Heijn, Delhaize, Bakker Barendrecht, DailyFresh, Visbeen, Euro Pool System, Kloosterboer, Origin Fruit Direct, Zuvamesa, Colruyt, Bollo, Agroiris, TobSine, Pozo Sur, Salling Group, Primaflor, Agroiris, Catman North, Topsin, DHL and Anykop.
Looking to the future, Transfesa Logistics will invest in this project and expand routes and destinations due to the success of Cool Rail. So in its beginnings in Badajoz, in 1943, its main business was transporting sheep and cattle. It is clear that times are changing and Transfesa Logistic has adapted to it.
Follow the topics that interest you
"Subtly charming bacon junkie. Infuriatingly humble beer trailblazer. Introvert. Evil reader. Hipster-friendly creator."